Former Chairman of Nigeria's National Human Rights Commission (NHRC), Professor Chidi Anselm Odinkalu has joined in prayers for the Governor of Abia State Nigeria, His Excellency Dr Okezie Ikpeazu, to drown in the infamous "Ariaria Fish Pond" in Aba, the economic nerve center of the state, at the end of his tenure as Governor of Abia.
Professor Odinkalu made the remarks in response to a photo of a young man holding up a placard with inscription "WELCOME TO ARIARIA FISH POND".
The placard was a caricature of a pond formed by stagnant flood in the middle of the popular Ariaria Market that generate a very high percentage of the state's revenue but has to be abandoned by businessmen.
The "pond" oozes a disgusting pugnacious stench as well as constitutes a high health risk, yet sits comfortably in the middle of Aba, one of the strongest economic bases in the South East region.
See photo below: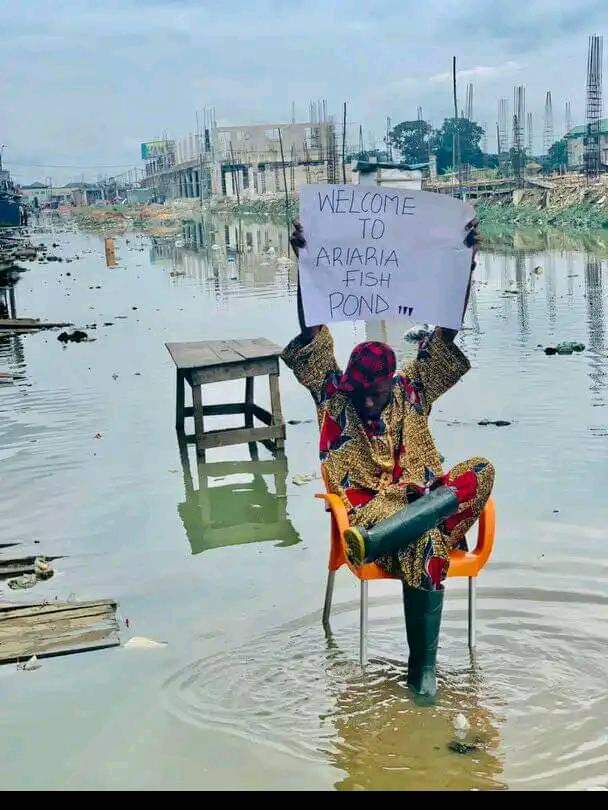 Reacting to the photo, Odinkalu wished that Governor Okezie Ikpeazu will drown in the "Ariaria Fish Pond", says he is that he is "the most useless accident that has happened to governorship in Nigeria".
Taking to his Twitter handle, Odinkalu tweeted:
"The way ppl are praying in Aba, I will not be surprised if @GovernorIkpeazu drowns in this #AriariaFishPond after finishing his tenure as Governor of Abia. The guy is the most useless accident that has happened to governorship in #Nigeria. Total, utter piece of #Doo_Doo!
See tweet below:
Governor Okezie Ikpeazu has been accused of governing the state with a nonchalant attitude and not improving the lot of the state in any positive way.